Royal ISD Technology Team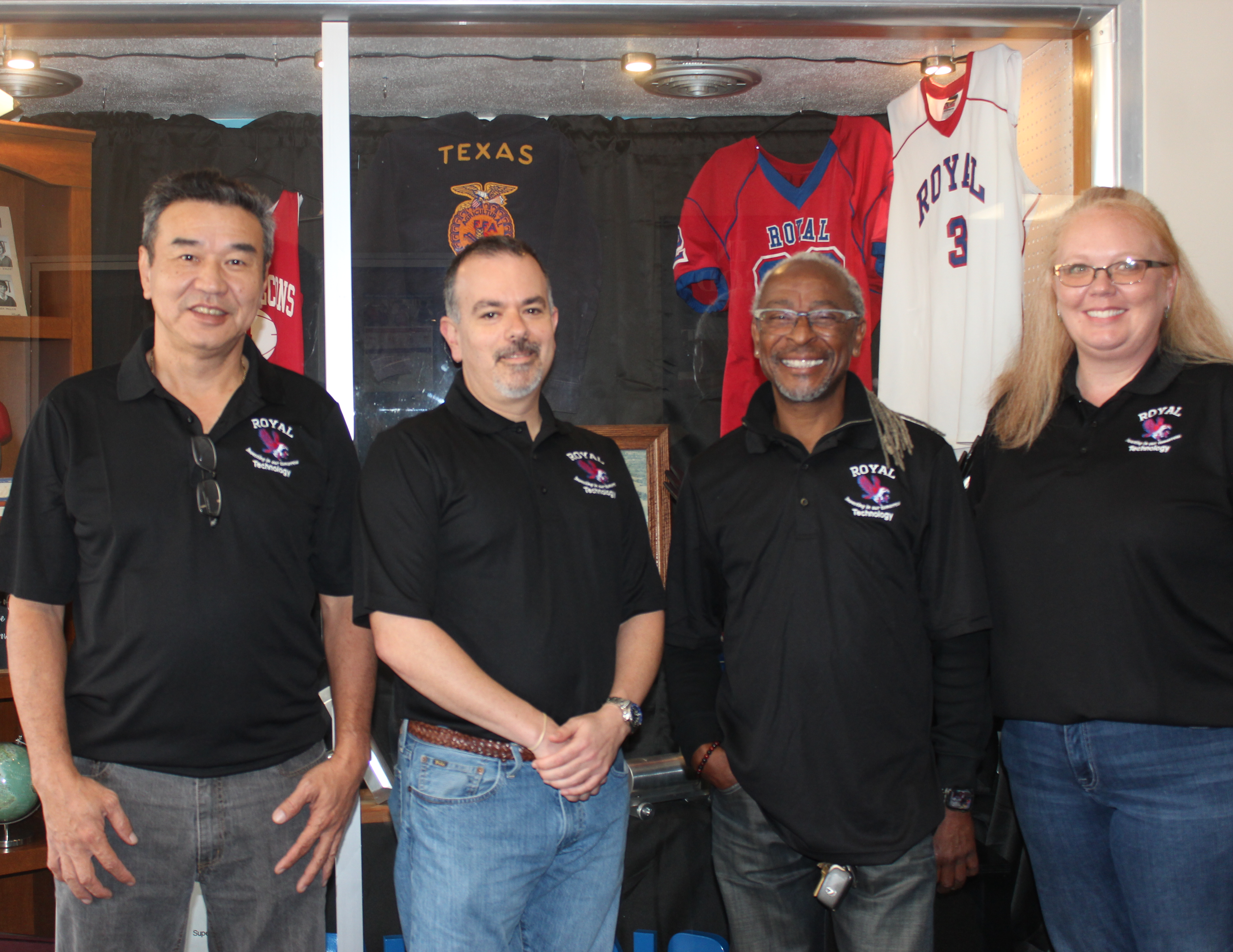 From left to right: Duc Tran, Mike Nicholas, Myron Moham, Joni Hooper
The Royal Independent School District is dedicated to delivering the best education that all of its students can achieve. With the significant developments and breakthroughs in technology, education will be greatly enhanced by a school district that is prepared to utilize those advancements. The more times that a student is challenged while in the classroom, the better the education that is provided. Technology, while mimicking many other venues outside of education, will only serve to help our faculty to offer those challenges to our students. With the measuring tools that are available to our district, new technologies will allow our staff greater opportunities to reach out to all students, no matter what their learning style may be, and hopefully challenge all students.

Long Range Technology Plans can only be effective if the technology that is being planned for is current. Unfortunately for planning committees, technology is being rewritten as this plan is being made. It is the decision of this committee to offer a one year plan, with the expectations that it is a living document. It will be reviewed a minimum of two times this next year in an effort to strive and keep our district current with the most up to date technologies available to school districts. Just as we are eager to try new technologies in our classrooms, we will not hesitate to remove anything that is not showing itself to be of merit. If necessary, we will submit a new plan every year, in order to maximize the strengths of the technology available at that time.

Lastly, we want to stress, that technology is not in addition to other classes, or in place of other classes, but rather along with other strategies that have already proven themselves to be effective. Royal I.S.D. desires to integrate technology into our district on all levels. It is our intentions to supply every area of our district with the technologies that will help our staff to accomplish our one goal, of giving our students the best education that they can achieve.
Meet your Technology Team!

Mike Nicholas

A multi-dimensional IT philosopher by day, meme connoisseur by night. As the district's technology director, I bring order to the chaos of the digital world. I may not always know the answer, but I'll always know where to find it (usually on Reddit). My "why" in education was honed to a fine point when my now 2 1/2 year old daughter was born and I was strapped into a rollercoaster that all parents must ride. I'm a Beaumont, Texas native and Dallas Cowboy fan who loves trying new restaurants, taking road trips, and convincing my coworkers that the '90s were the best decade for technology. #neverforgetfloppydisks

Myron Moham

My Name is Myron Moham. I am the help desk manager at Royal-ISD. I have been doing everything related to helpdesk relasted for 38 years . My day starts at 6:30 when I arrive at the high school, I work alongside with the district's very own geek squad but sometimes they have a hard time keeping up with me , it's probably because I walk the equivalent of six to seven miles every day throughout the day.

Mr Myron is a really hard working guy he's always on every campus of ROYAL ISD helping every teacher that needs help, he's the best of the best, No one can't compete with his skills, he's always averaging of 6 miles walking per day around RISD, he's the best that RISD has ever had.

Joni Hooper

As a natural born list maker, planner, task ticker and creature of habit I have found my home away from home. You can find me in the back taking notes for our technology wizards and making sure the lists are made and the tasks are ticked. I will be the voice you hear with the warm smile to communicate your needs to our department. I have never shied away from a challenge and look forward to the growth ofthis community. When I am not at work, I am probably found in bed, cruising in our T-Bucket or just being the best pawrent to my furbaby I can be.