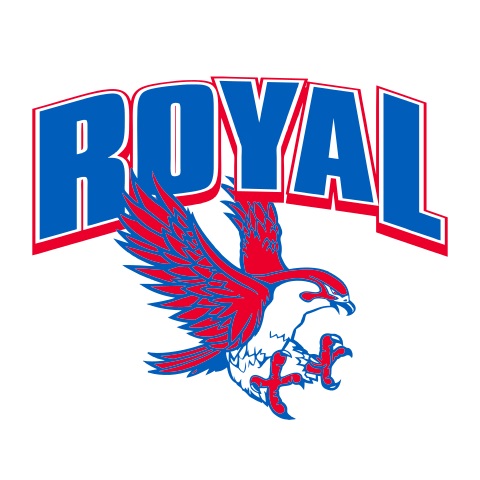 Are permission slips required to administer tests on students or staff?
Permission slips are not required for individuals over 18 years old. Permission slips for students under 18 years old are required.
Can relatives of school system employees or students be tested?
Testing allotments are based upon staff and student accounts. You must be a face to face learning student or staff member employed by the school system to be eligible to receive testing. For every positive case, a whole household is potentially affected. Please refer those individuals to the TDEM and DSHS COVID-19 Test Collection Sites Map.
What is the process for testing for face-to-face Falcon learners?
If a parent/guardian has given permission for Royal ISD to administer the BinaxNOW test for their child, your child's school nurse will call you to let you know that your student is experiencing symptoms and will be administered a BinaxNOW test.
If your face-to-face learning child is experiencing COVID symptoms and you would like for him/her to be tested, please do NOT send him/her to campus. Please contact your campus nurse to schedule a time for a drive-through test.
Royal High School: 281-934-2215

Royal Junior High: 281-934-2241

Royal Elementary (PK-1 and 2-5): 281-934-3166

Royal STEM Academy: 281-934-2215
I am an RISD employee. What is the testing process?
If you are a Royal ISD employee, are experiencing COVID symptoms, and would like to be tested, please do NOT report to work. Instead follow the required protocols and contact your campus nurse to arrange for a scheduled time for a drive-through test.
Royal High School: 281-934-2215

Royal Junior High: 281-934-2241

Royal Elementary (PK-1 and 2-5): 281-934-3166

Royal STEM Academy: 281-934-2215
How long is this testing program slated to run?
The testing program duration will be dependent on the number of BinaxNow test kits that are ultimately provided by our federal partners and the level of participation from school systems.
What type of rapid antigen tests will be provided by the state, who is the manufacturer?
The state is using Abbott BinaxNow Ag Card Tests. These credit card-sized rapid tests can potentially be largely self-administered through a nasal swab if you are over 18, administered by a nurse if not, and deliver results in 15 minutes. The ABBOTT - BinaxNOW tests Antigen Immunoassay Test detects the presence of a specific viral antigen, which implies current viral infection. This test kit is a screening tool that identifies the presence of viral antigens (SARS-CoV-2) in the body.
What are the differences between an antigen, PCR and antibody test?
The antigen tests identify the virus by detecting the proteins from the virus.
The molecular test (RT-PCR) detects the virus's genetic material to see if you have an active coronavirus infection.
An antibody test looks for antibodies that are made by your immune system in response to a threat.
How accurate is this type of test?
Abbott evaluated its test in 102 patients who had shown COVID-19 symptoms for less than 7 days and compared the results with a PCR test. This analysis showed that BinaxNOW tests has a: o sensitivity (true positive rate) of 97.1% o specificity (true negative rate) of 98.5%.
How long does the test take?
After the test is obtained using a sterile swab, the ABBOTT - BinaxNow Card takes 15 minutes to return a result
If I test (+) positive, do I have COVID-19?
Presumptive Test: This test is only an indicator of the presence of the COVID-19 virus
A formal medical evaluation and certified laboratory verification would be necessary to indicate a confirmed infection
Presumptive-positive results also do not rule out bacterial infection or coinfection not related to COVID-19.
Does this test identify the common cold or strep throat?
No: This is a specific test for the COVID-19 virus SARS-CoV2
Can staff and students enter the required information before they come in for a test?
Yes. Have staff and students over 18 years of age go to: https://register.txrapidtest.org/. They will need to fill out the information required, and press submit. A QR code will be created that contains the information necessary to register. They may print out the QR Code, or take a picture on their phone to bring to the testing location. § Legal guardians of students under 18 years of age may also use the QR Code generator for their children, but they must also provide a signed permission
Royal ISD does not discriminate on the basis of race, color, national origin, sex, age, or disability in providing education services, activities, and programs including vocational programs, in accordance with the Title IX of the Educational Amendments of 1972; Section 504 of the Rehabilitation Act of 1973, as amended.