Royal ISD offers a wealth of opportunities in a small school environment. Nestled between Cypress, Katy, and Fort Bend, we unite legacy and tradition with current best practices to create success stories. All students are destined for different futures, so our focus at RISD is on the needs and goals of individual students. We offer a full suite of opportunities for college and career readiness to insure happy and fulfilling futures for our graduates. In addition to its Elementary, Junior High, and High School, the district also has campuses devoted to early childhood, STEM, and early college courses. Read on to learn more about this hidden gem!
Location and Boundaries
The Royal Independent School District is a 4A school district, located in southern Waller County serving the communities of Brookshire, Pattison, Sunnyside, and the surrounding areas. The district boundaries are FM 529 to the north, the Harris County line to the east, the Fort Bend County line to the south, and the Brazos River to the west. This area contains a total of 161 square miles.
The nearby Rooms-to-Go warehouse/showroom, Amazon, Igloo, Grundfos, Goya, Houston Executive Airport, and numerous other businesses and hotels place RISD in a prime position for future growth.
History
The district was established by special election in January, 1959 when the citizens of the Brookshire and Pattison School Districts voted to consolidate. The newly combined district was known as the Pattison-Brookshire Consolidated Independent School District until February, 1960 when it was renamed Royal Independent School District (RISD). Royal is not Pattison or Brookshire, but is a unique combination of the two communities and surrounding areas.
Programs and Campuses
Royal Elementary (PK-1) offers a full-day Pre-K program with no eligibility requirements for all residents of the district. To meet the different needs of our Pre-K and elementary students, Royal has separate campuses for Pre-K through 1st and 2nd through 5th. In doing so, we provide a solid foundation to early childhood students in an environment structured just for them. Students move to the Royal Elementary (2-5) campus in 2nd grade.
Royal Junior High takes the foundation built in early childhood and elementary to prepare students for their transition into high school, providing initial exploration into their futures.
Royal STEM Academy's overall goal is not only to increase all student achievement in math and science, but to inspire students by exposing them to rigorous "real world" problems and issues in a project and inquiry based learning environment. Royal STEM Academy provides students with an innovative program that offers students the knowledge and skills needed to solve problems, gather and evaluate evidence, and think critically to prepare them in the fields of science, technology, engineering, and math (STEM). The skills taught at STEM are designed to create future leaders who have the ability to understand and solve some of the complex challenges of today and tomorrow. Our primary objectives are to meet the demands of the dynamic and evolving workforce while building students' skills, content knowledge, and fluency in STEM fields. We are proud and excited to announce that the Royal STEM Program was chosen as a 2019-2020 "Project Lead the Way" (PLTW) Distinguished School in the 2019-2020 and 2018-2019 school years. This recognition indicates that the Royal STEM program is empowering its students to thrive in our evolving world and is achieving exemplary results from its PLTW Gateway program. Click here to watch a special message from PLTW President and CEO Vince Bertram.
Royal High School students have a wide variety of opportunities available to them as they hone their focus on what they want to be after graduating. Students can choose to complete college coursework, focus on a career and technical path, choose from a wide variety of extracurricular activities, or a combination of those options to create a custom path that suits their needs and abilities.
Royal Early College High School allows students to receive an Associates' Degree when they graduate from Royal ISD, at no cost to their families.The Early College High School allows students to receive an Associates' Degree when they graduate from Royal ISD, at no cost to their families.

For students who want to explore career options during high school, Royal High School offers ten elective pathways through its Career and Technical Education (CTE) program. Students can participate in the following areas to explore their interests:
- Ag Science Technology
- Automotive Technology
- Business & Computer Application
- Cosmetology
- Education & Training
- Stem & Engineering
- Health Science
- Machining Technology
- Arts & Communications
- Welding Technology
Approximately 93.7% of the students in at least one CTE pathway, which allows them the option to obtain career certifications prior to graduation to get a jump start on their career paths.
To round out each student's experience, RISD is committed to the "other education" and is home to award-winning UIL Teams, athletics, band, cheer, choir, dance, and a variety of student leadership organizations.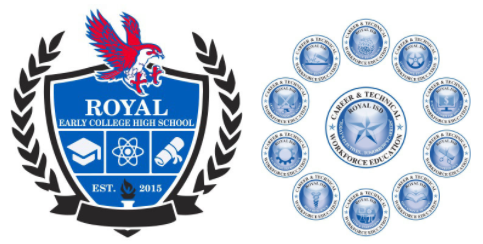 Explore All Royal Has to Offer
To further explore the big picture of the great things happening in Royal ISD, please visit the following links:
Royal STEM Academy: "Project Lead the Way" (PLTW) Distinguished School

Community Service

2019-2020 Student Awards