The 2020 Teacher Appreciation Week looks a lot different than it normally does, but the entire Royal ISD community appreciates all of its superhero teachers and paraprofessionals. Each and every one of you makes a profound difference in the life of your students, which is especially important during this time of uncertainty.
You had to accept the goodbyes to your students that were lost and transition quickly from your normal teaching practice to remote learning. All of you have done this while juggling the effects of COVID-19 on your family and personal lives as well.
I am not surprised by the speed, innovation, creativity, brilliance, sensitivity and care with which you have accomplished this.
For all of that and so much more, we thank you and we salute you. To honor all of the educators at Royal ISD, we posted several questions to our students about why their teachers are amazing.
WHAT MESSAGE WOULD YOU LIKE TO SEND TO YOUR TEACHER ABOUT HOW MUCH YOU APPRECIATE HIM OR HER?

I THINK MY TEACHER IS SUPER BECAUSE _________________.

WHAT DO YOU THINK YOUR TEACHER DOES IN HIS OR HER FREE TIME?

IF YOUR TEACHER WAS A SUPERHERO, WHAT WOULD HIS/HER SUPERPOWER BE?

WHAT IS THE SILLIEST OR MOST FUN THING YOUR TEACHER HAS DONE DURING HIS OR HER CLASS?

IS THERE ANYTHING ELSE YOU WOULD LIKE TO SAY TO YOUR TEACHER ABOUT HOW HE OR SHE HAS INFLUENCED YOU OR HELPED YOU GROW?

WHAT IS YOUR FAVORITE MEMORY WITH YOUR TEACHER?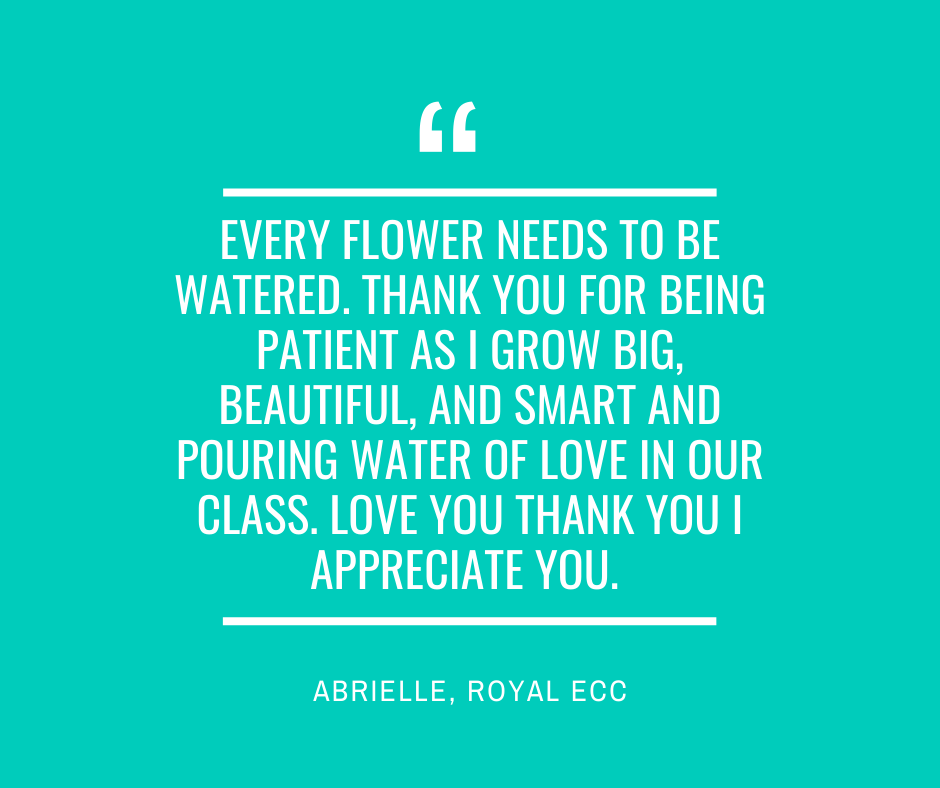 CHECK OUT THEIR ANSWERS BELOW!
WHAT MESSAGE WOULD YOU LIKE TO SEND TO YOUR TEACHER ABOUT HOW MUCH YOU APPRECIATE HIM OR HER?
I love you, I miss you , you've taught me so much.

Eres la mejor maestra

Thank you for making basketball fun for me.

thank you so much for everything you have done for us throughout the year :) you've been such great motivator for all of us! as a good teacher that you are I know it's a lot of us I'm thankful that you are always checking up on everyone! take care coach!

Thank you for all fo the support and attention you have given to our son over the year. You are a wonderful asset and friend. We look forward working with you more in the future.

Thank you for supporting and loving our sons as your own. You have been a great influence on them and you are greatly appreciated for all you have done and will continue to do for them over the next years.

You have been a wonderful inspiration to me. I appreciate all you do for the whole school. You do so much for everyone and this message is too little of a reward. I love coming to your class everyday, knowing you will make it worth it.

Gracias maestro por haber ayudado en este ciclo escolar que Dios lo bendiga siempre ser maestro no es facil y usted decidio a ayudar a los niños a realizar sus sueños.

Thank you so much for always pushing all of us to be the best we can be and for making history ten times more interesting.

Thank you for everything you have done to assist in the advancement for our son in all aspect of his learning and growth. You will not be forgotten and are considered a friend and ally.

Thank you for letting me volunteer in the library and assist yall with classes. It has reignited my love for working in the school.

You been a wonderful teacher and I appreciate her very much. She has been helpful towards any assignment and as our class says: she s a great storyteller (and should have a youtube channel). She was very welcoming since I was new to the district and ever since she has been nothing but kind and caring. I am so very grateful to have her as my 7th period teacher.

I appreciate getting to learn about all the animals and getting to go to the AG barn and help with the animals.

Thank you for simplifying Math when I struggled the most.

Muchas Gracias por todo su esfuerzo y dedicacion hacia nuestros hijos, bendiciones.

I apperciate you for being the best teacher and she was very funny to everyone in the classroom and I would like to say one more thing: thank you for giving me a shout out. You are my second mom in school.

My favorite teacher is funny and she is has always had my back when i was down. She is a good teacher to be around and I love her.

I have enjoyed chatting with you about my projects and what is going on.

I appreciate all of the cool novels that we have gotten to read this year!!!

I appreciate how much I have learned about Texas History. I have lived in other states and have never gotten to learn about Texas History before. I liked getting to learn about the state I live in.

I'd give you big hugs!

I have extremely enjoyed using the inventor program to design various cars and trucks. I appreciate you having things like inventor for us to learn about and use.

I love her so much. I just want to hug her.

Thank you for teaching me and for your kindness.

I appreciate you so so so much ! The patience you have and had with my child is amazing and he definitely thinks the world of you. He would rather you be teaching him than me lol. I just wanted you to know I will never forget you even when he is in college accomplishing all his goals I will let him know it was because of the time and effort you put in and I will appreciate you for ever.

You made Scarletts first year of school so easy for her , even though we had a rough start. My daughter loves her and misses her since school had to be canceled. She has been very patient with her through her tough moments and has taught her so much. We appreciate everything she does for us.

My teacher is on of the best teachers I've ever had she's helped me though this whole entire year even if it was really easy she'd still help me! My other teacher is also one of the best teachers shes always making learning fun she is very helpful when we need help I'm glad I have both of these teachers if I didn't have these teachers I wouldn't be able to do a lot of things.

Thank you for basically being my school mom!

I really do appreciate you ,always keeping a smile on your face through everything and helping me to keep pushing through everything.

Thank you for making my 6th grade year fun!

Thanks for letting me spill the tea to you and thank you for always checking on me and everything you do.

Gracias por ser mi maestra la quiero mucho Dios la bendiga siempre.

I would like to thank you for helping with my work,and making our classroom fun and pushing me to do my best.

For taking the time to help me understand and learn better with everything. And to find ways for me to get what we learned.

She is VERY nice and kind.

She not only teaches but she cares if her students understand what she teaches. Since I've been home I've probably talked to he more than I did at school by phone, text or email. Not once but every time I've called she answers. Just talking to her builds the confidence that I have when I'm in her classroom and she tells me "great job" or "I know you can do it." She encourages me to believe in myself even though I am not at school. I really miss her.

We are so thankful for you and how amazing you have been during this crazy time. My child has loved being in your class and has learned so much!

You meant everything to me, and i appreciated every single moment with you and if I go to high school I'm definitely gonna miss you, you're an amazing teacher and you're gonna be an amazing teacher for the students who take our spots, love you so much!

He is my number 1 go to teacher.

Thank you so very much for everything you do to support our son and be there for him.

Thank you for everything you have done to assist in the advancement for our son in all aspect of his learning and growth. You will not be forgotten and are considered a friend and ally.
I THINK MY TEACHER IS SUPER BECAUSE _________________.
Ella es muy cariñosa!

She makes me smile and I miss her.

Porque me ayuda siempre con las dudas que tengo.

Siempre esta¡ con una sonrisa y sabe muchas cosas.

She knows when something is wrong with me and makes me feel better.

She can make any bad situation funny.

He can see potential.

He's not someone who will let you down, he is always helping around, and will always make you laugh!

She is committed to her job and to the kids. She has always helped me with my work and one time my notebook got lost and she got it back to me before finals. She is so hardworking and such a strong woman.

She teaches me how to read and she is cute.

She is super at everything.

Because she lets us do cool science experiments and teaches me stuff, like counting to 100.

Es muy amable.

Es super amorosa y buena.

Es muy cariñoso.

He is the coolest.

He knew how to teach the problems in a way I could understand.

He lets us have fun in the gym and you can play games with him.

He uses rap to make math fun.

She is super because she always works hard and is very determined towards her work.

I think my teacher is super because she's beautiful and I love her so much.

She gives out lots of candy when we behave.

She fun and short :)

She goes above and beyond at all times.

She is nice and gives good hugs.

She makes learning fun and is fun to learn with.

She puts up with us and loves us.

She reads good books!

She understands me.

She's funny and loves me because I'm her favorite.

She's always there for me when I need her help.

She's just awesome.

She's just super in general.

They make learning fun.

Siempre están ahí para ayudarnos.
WHAT IS YOUR FAVORITE MEMORY WITH YOUR TEACHER?
When she stayed after class tell me understand and also that time me and the girl on the playground and she was mean to me and she stuck up for me
Sitting having the best teacher conference over some Pops pitt barbecue laughs and alot of serious talk about my child .

Seeing her on the first day.

Drawing letters when she would say the sounds

Cuando hacemos los proyectos de STEM

On my first day of sophomore year when I was getting my schedule he told me we would have quiz on the first day. I was so scared because I've never had an AP class before, but it turned out he was just messing with us.

When he blew my mind by connecting everything we learned throughout the year.

We sat next to him.

My favorite memory with Ms. Inniss is when I helped make the Falcons Soar on the wall. I stayed after school to help make the wings and in that time we did a lot of bonding and I got to know more about her.

Oh we have had too many!!!

She teaches me about rainbows. She teaches me so many things.

When the school was on lock down I was very afraid and could not stop shaking and Ms Arias comfort me. At that time she was more than a super hero to me.

My favorite time with her is during reading. She makes me believe I can take on 2nd or third grade books and she helps me to read in Spanish which Is a challenge I love.

Playing games and switching chairs

Getting treasure box

When we went to Moody Gardens

About learning Spanish.

Reading the Malala book and learning about her life. I loved making the scene project.

Going outside to play.

All of the times I wasnt in trouble.

When we would do tiktoks during advisory

Skills competitions

When she helped me

All of them!!

Cuando com­amos con ellos.

when we made towers out of marshmellos and toothpics.

2v1 in gym

3D printing my engine, getting to see one of my designs become reality

All of them.

Baby Gender Reveal

En la fiesta de navidad

Everytime this year.

how he would make fun of us before an exam!

I don't really have a favorite memory; every day has been amazing. I love how she teaches and i love how everyone is easygoing around Ms. Rich.

I really enjoyed doing the projects in science class.

I remember all she did at the Christmas party and the present she got us.

Just chatting with you was always awesome!!

Learning patterns and going outside

My favorite memories with my teacher is when Mrs Miller and Mrs Bryant scared all the kids expect for me

Our favorite memory is going to Main Event with him.

Playing soccer during PE.

Hay muchos, es muy divertido, nos enseña a dibujar en 3D y hace muchas cosas con nosotros.

Subway after the Waller tournament.

The book fair and the lock down

The Faith Academy volleyball tournament.

The project for stem night where we did a museum artifact.

The things on Quizzes.

the tiktok dancing.

Todas las memorias son favoritas.

When I got to spend time with her on her room

When she tells me to move my clip up

When we were at AG barn and the baby pig got out of his pen and we had to chase him around.
WHAT DO YOU THINK YOUR TEACHER DOES IN HIS OR HER FREE TIME?
Deporte

Does math

Eat A LOT... listens to podcasts

Eat and watch science movies or something, and worries about her students.

Get a break from us

Gets coffee

He plays video games. (I relate)

Hunts

I think she does work.

I think she likes to read.

I think that he Workouts honestly.

Jugar con su perrito / perro

let us do math games or reading games.

Make her kids learn different stuff

Makes our homework and plays with her baby

makes sure her students are all where there supposed to be with there grades that's how much she cares

Math

Reads or takes walks. She always picks out great books for me to read!

Pasar tiempo con sus hijos

Pensar en sus estudiantes y como ayudarnos

Planned her wedding.

Play with her children

Plays with her doggy

Probably spend time with her husband and baby

Put her feet up and enjoy some quiet time

Read

Read and spend time with family

She goes outside with us.

She lets play a game seven up and 4 corners

She plays with her husband and reads

She spend time with a baby and family

She works and calls people that need help. She takes care of people.

Sits at home and thanks a funner ways for me to learn

That is a very good question????

Trabaja más para enseñarnos

Va al gym, hiking y carreras

Watch the office

Watches TV.
IF YOUR TEACHER WAS A SUPERHERO, WHAT WOULD HIS/HER SUPERPOWER BE?
Being the most powerful scientist

Changing the world making everyone smile

Como capitan america flexibilidad

Cubing numbers!!!

Cute power

Diiorio, reading minds Baxley, flying

Flying

Goes really fast

Going back in time to different historical events.

He would bend the earth, but, instead of raising up the ground, he would create bar graphs.

Her power would be super strength. She could help everyone read anything they wanted. In Spanish or English

HULK! / Hulk smash strength!

Invisibility

Knowing the definition of all words.

La mas fuerte y rapida

Laser eyes / laser eyes to heat up anything.

Math

Mind reading lol

Poder parar el tiempo para que pueda tomar cafecito

Reading super fast

Run super fast / super speed

Super educadora

Super paciencia

Saving people.

Sharing scientific knowledge; or super strength because you work out.

She would have water power

Siempre estar conmigo

Strength / Strong women

Super intelligent / super smart and fast

Telekinesis

The ability to make something from nothing. To make something cool and usable out of recycling.

the power the spread kindness she always tells me to spared it so that would be her superpower

To be in ten places at 1 time.

To help kids in school

To help other people do math.

To read people mind and to be immortal so she can stay with me for as long as we want

To talk to animals like Dr. Doolittle.

Volar
WHAT IS THE SILLIEST OR MOST FUN THING YOUR TEACHER HAS DONE DURING HIS OR HER CLASS?
Chasing the baby pig was pretty silly!!!

Cuando baila

Dodgeball

Doing catapults

Every Friday you would show us a historical meme, and those were funny!!!

Free time in athletics

He always laughs at his own jokes

He jumped on carpet and slipped

He's done plenty of silly things in his classroom, like roast us one by one.

Hop around like a monkey

I liked it when Ms. Inniss told the class stories; it was very entertaining.

Learning things!

Let Chris and Eleanor get married at the end of class.

Makes silly faces and voices when she reads books!

On squad day she dress up like a nerd and look pretty funny.

She did the chicken dance

She does a lot of fun stuff but when she gave all her students in her class a sticky note and said how do you spell my first name and she just knew i had to know it lol.

She let me sing to the class.

She let's us play games on reading.

She sometimes misspelled words

That we colored to learn even and odds that was fun

The nature hunt outside was fun

Todos los di­as son divertidos con ella

When he played the titanic song for us the first time

When he rewarded us for good behavior.

When she was wearing a scary mask over her face.

When she laughs she sounds so funny

When she lets us laugh.

When she makes random noises after talking about something

When she miss reads and forgets were she put her work.

When she sings in both languages

When she told everyone in the class who I used to date not everyone knew then she told another teacher and it was wild

When she was in a clown costume

When she would start dancing while we would be working in the lab.

When we had to walk in the gym and she would chase us with the ball.
IS THERE ANYTHING ELSE YOU WOULD LIKE TO SAY TO YOUR TEACHER ABOUT HOW HE OR SHE HAS INFLUENCED YOU OR HELPED YOU GROW?
Always listening to me and telling me what's better than the choice I made and helps me think outside the box!

Every flower needs to be watered. Thank you for being patient as I grow big,beautiful and smart and pouring water of love in our class. Love you thank you I appreciate you.

Gracias por ser muy buena me ayudado a comportarme como un niño grande ya no soy un bebe

He assisted with me learning math

He has really encouraged me and all of us and he is very positive.

He helped me get better at basketball.

I like your hair straightened, you look really beautiful (not that you aren't already). I couldn't have asked for a better biology teacher. Thank you so much for all you have put into for my and my class's success.

I miss her.

I want to tell her that I love her and miss her. I want to go back to school so I can see her. Thank you for helping me work and being so nice to me.

I miss you and thank you for being my teacher.

Me a ayudado a ser mejor por que nos motiva echandonos porras y decirnos que si podemos

Just know that I miss you so much and when I get to high school i will make sure to visit you 24/7

My teacher is nice, helpful, and funny. She strive me to do better even now while we are distance learning.

My teacher helped me in class I said to her one time that I am not answering in class to my teacher when they are asking question she told me that they will not give you a failing grade unless I do my work in class.

Que la extrano mucho!

She loves having you as a teacher

She always tells me "I know you can do it, so just settle down and get it done." Then I just do it because she believes that I can if I just put my mind to it. Thanks for believing in me. You're the Greatest.

She helped me by showing me that I can play the sport if I put in effort.

She helped me with a lot of things.

She helped me with my attitude.

She helped me with the types of books I read.

She is helping me learn Spanish!

Siempre me motiva a ser mejor y la extrano mucho

Su atencion y dedicacion significa mucho y eso nos ayuda a ser mejores.

Te quiero tu y te extrano mucho por todo lo que me has ensenado.

Thank you for all of your help and support.

Thank you for assisting my ability to reading more.

Thank you for everything you do for the school and kids. Please know how appreciated you are.

Thank you for everything you have done for us throughout the years.

Thank you for helping me with my ability in math.

Thank you for loving me.

Thank you for putting in so much effort for our success! You are an amazing teacher!

Thank you! You reminded me that Math is still fun and my specialty.

Thanks for always helping me and letting my mom copy the notes. I hope that you are doing good and staying safe from COVID.

Thanks for encouraging and pushing me to be all I can be. You make me believe I can do anything. Thanks so much.

Thanks for teaching me this year!!!!

Thanks for the laughs.

That I love her and gonna miss her.

There are no words for how she's helped me, she's awesome!!

To be better and try harder.

You've helped become more confident as a student as well as a person. Thank you for always being there for all us. Class of 2021 loves you.