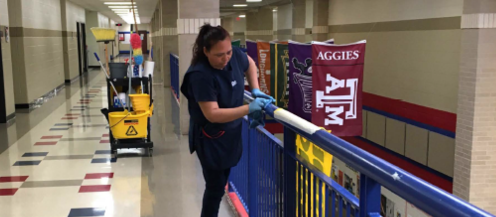 FACILITY CLEANING AND SANITATION MEASURES
What measures will Royal ISD take to keep facilities sanitized?
Public areas, classrooms, buses, hallways, dining areas, cafeterias, class supplies, and restrooms will be cleaned at least twice daily with a CDC approved chemical that can destroy COVID-19 virus as well as other viruses.
Deep cleaning will be conducted regularly.
Each classroom will be provided with sanitation kits that will be used during transitions as appropriate.
Students and staff are required to use hand sanitizer when entering a bus, building, classroom, and/or office. Frequent handwashing and sanitizing will also be incorporated in the daily schedules.
Staff are expected to clean and sanitize their workspaces before and after use. [GC1]