Greetings, Falcon family! See below for news, a guide to the Royal ISD website, and upcoming events! We post Falcon news and information daily, so make sure you follow us on social media or check the website frequently for updates! Help us spread the word by sharing Royal Falcon news on your personal social media.
---
Royal School Board Calls May 6, 2023 Bond Election
On January 17, 2023, the Royal ISD Board of Trustees approved calling a May 6, 2023, bond election in the total amount of $144,420,530. The 2023 bond addresses district wide safety and security, new construction, renovations and remodels, existing facilities, technology infrastructure, and stadium improvements. In accordance with law, the bond is split into two propositions; Proposition A for $138,069,530, which covers general projects, and Proposition B for $6,351,000, which covers stadium improvements. To learn about the proposed projects, please CLICK HERE to visit the Bond 2023 website. The election will be May 6, 2023, with early voting April 24 through May 2. Watch the Royal ISD website and social media for additional news and information.

---
Falcon vehicle service appointments available! Schedule yours today!
Do you know that the Falcon automotive pathway students can do anything from oil changes to major repairs like brakes, fuel pumps, engine mounts, steering and suspension, spark plugs, cooling systems, etc. The program recently started accepting donations for the repairs in benefit of the SkillsUSA program. The donations will be based on the total cost of the repair. CLICK HERE to reserve your spot today!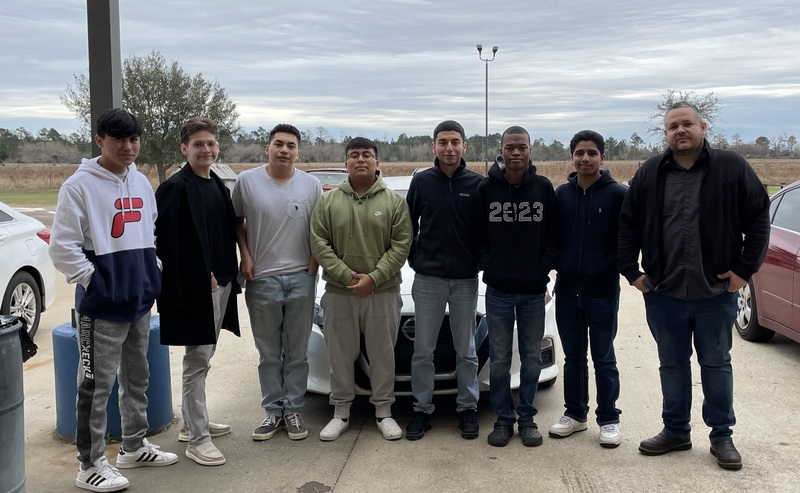 ---
Royal ISD Website Guide
The RISD website contains a wealth of information related to all things Royal. The following graphic and descriptions show where on the site to access the information you need about the district!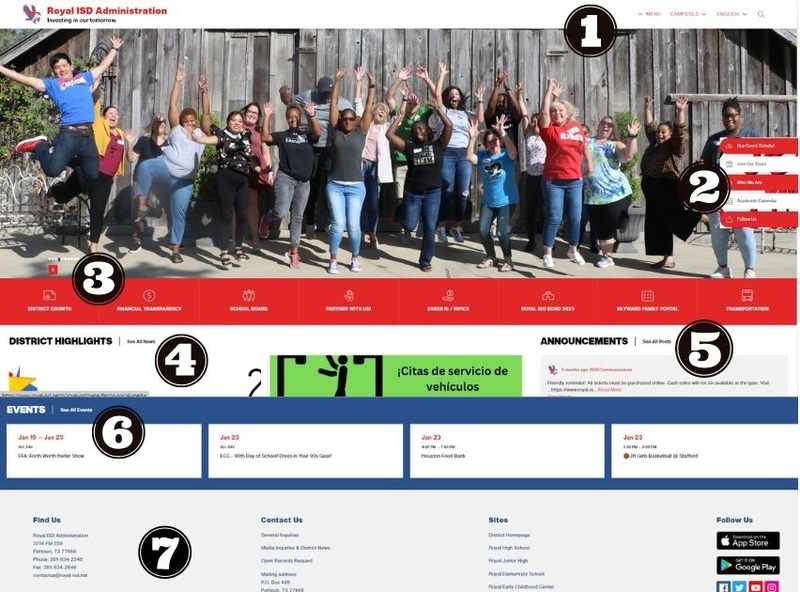 Menu, Campuses, Language. Click the Menu dropdown to access the site map. Click the Campus menu to change to a campus website, and click the Language option to switch between English and Spanish.
Quick Menu – Hover your mouse over the menu and click to buy event tickets, see employment opportunities, learn about Royal ISD, see the academic calendar, and follow us on social media.
Frequently accessed items: click the buttons to quickly access important information about Royal ISD.
District Highlights are news items about what's happening at Royal. Click "See All News" to view more items. If you receive a call from Royal ISD that tells you to check your email or the district website, the item will be posted in this section.
Announcements are quick bits of information about upcoming events and more. Click "See All Posts" to access the full list of posts.
Events – the four most recent upcoming events will be displayed. Click "See All Events" to access the entire district calendar.
The bottom portion of the website contains the address, contact information, and sites as well as links to download the district phone mobile app and to access our social media channels.
---
Happening This Week
Sunday, January 22
Monday, January 23
ECC - 90th Day of School! Dress in Your 90s Gear!
Last day of Forth Worth Heifer Show
RJH Lady Falcons Basketball @ Stafford; games at 5pm, 6pm, 7pm. Players will leave campus at 3:30PM and should make up any missed homework for 8th period. Tickets available at https://gofan.co/app/events/767504?schoolId=TX75921
Houston Food Bank, 4-7PM, Royal High School PAC entrance
Tuesday, January 24
ECC - Compliment Day
HS Boys Basketball vs Needville: F - 4:30pm, JV - 5:45pm, V - 7:00pm
HS Softball @ Hitchcock (Scrimmage): JV – 4:30pm, V – 6pm
HS Girls Basketball vs Needville: JV – 4:30pm, V – 5:45pm
HS Boys Soccer vs Waltrip: JV - 5pm, V – 7pm
HS Girls Soccer @ Columbus: 5:30pm
Wednesday, January 25
FFA: Horticulture Show Plant Dis
Thursday, January 26
Academic UIL: Virtual Challenge #3 Closes
ECC - Title 3 Family Night
RJH Royal Stars OAP Competition: "The Gorgon Sisters"
Bluestem Development Groundbreaking Event
School Health Advisory Committee (SHAC) meeting is on January 26, 2023, from 4:30PM - 6:00PM at the Royal Early Childhood Center (2300 Durkin Rd., Pattison, TX 77423). The meeting will be in-person only, and attendees will be served tacos!
JH Boys Basketball vs Stafford: 5pm
Friday, January 27
HS Boys Soccer vs Huntsville: JV – 5pm, V – 7pm
HS Girls Soccer @ FB Marshall: 5pm
Saturday, January 28
Academic UIL: Waller Invitational Meet
RJH Stars UIL OAP Public Show: The Gorgon Sisters"
HS Softball vs Alief Elsik (Scrimmage): 10am
Have a wonderful week!