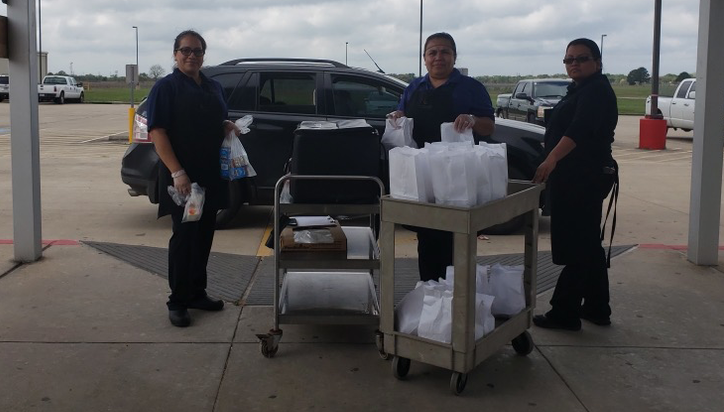 Cafeterias will serve breakfast and lunch daily. The physical setup for the cafeteria and the schedule will be adjusted to reduce the number of students in the cafeteria at one time. Each campus cafeteria space will be evaluated to ensure social distancing. Safety and health measures will be adjusted based on current guidelines and conditions. Royal ISD must comply with child nutrition guidelines.
Free/Reduced Meals and Student Lunch Accounts
We are happy to report that all Royal ISD students are eligible for free breakfast and lunch EVERYDAY from 10/1/2020 until 12/31/2020 or until program funding is exhausted, whichever comes first. The requirements are simple. Breakfast is automatically free, with no forms required. To receive free lunches, simply CLICK HERE to complete the required forms.
Please send an email to meals@royal-isd.net if you need assistance with the application process or with student meal accounts.
Remote Learners
During the first four weeks of virtual instruction, Royal ISD will serve meals at Royal Elementary School (2nd-5th) and Royal High School.on Mondays and Wednesdays ONLY, between 7:30am and 11:30am.
Monday - Students will receive breakfast and lunch for 2 days.
Wednesday - Students will receive breakfast and lunch for 3 days.
They will receive meals with heating instructions, so that students have a variety of meals.
Parents may pick up meals even if the student is not in the vehicle.
Face-to-Face Learners (after the first four weeks)
Breakfast is universal for all students.
Lunch: Student ID numbers will be entered by the cashier. Parents should add money to student lunch accounts regularly so that cafeterias can operate on a cashless basis.
- Breakfast is universal for all students.
- Lunch at STEM, Royal Junior High, and Royal High School -Students will eat in the cafeteria while practicing social distancing. For lunch, students will go through the line and eat in designated areas adhering to social distancing.
- Lunch at Elementary Schools - Students will eat in their classrooms.
- DAEP - Breakfast and lunch will be provided in a sack lunch.
Food Safety
The following information will be included in meal distributions throughout the school year. Click here to view a printable PDF version.