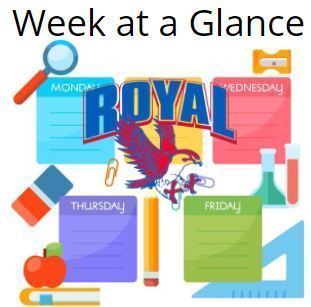 Week at a Glance: 11/16 - 11/22
RISD Communications
Sunday, November 15, 2020
Greetings, Falcons!

This week's message and future ones will be in a new, more user-friendly format. This week's edition includes spotlights on Veterans' Day, the Marines' 245th birthday, Amazon Smiles' partnership with the Royal Education Foundation, updated district and campus improvement plans, and more! Don't forget to check out the virtual STEM book fair between November 16 and November 29!
Items to note:
· Royal STEM Academy Virtual Book Fair: 11/16 - 11/29
· Amazon Smile to generate donations for Royal Education Foundation
· District and campus improvement plans
· The Parent and Family Engagement Connection, Volume 17 - 2020, 2nd Quarter
· Sports Schedules

The new format allows you to select the language of your choice, customize the font size, and select a high-contract color scheme.



Do you know of upcoming events in the Royal community or have good news to share about our Falcon students? Submit your items to falconstrong@royal-isd.net by noon each Thursday for the following week's newsletter. Submissions should be in final draft status. Please include pictures and flyers as applicable.

Have a wonderful week!
Royal ISD