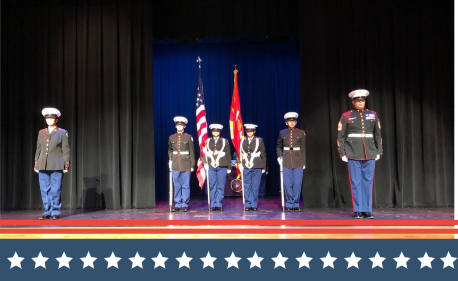 Royal High School Marine ROTC Performance
RISD Communications
Wednesday, October 28, 2020
Royal High School is to excited to announce that the Royal High School Marine ROTC was selected to perform the posting of the colors as Cloudbreak Communities commences its Light Rail Lofts redevelopment. The project is designed to help meet the much-needed support and care that our at-risk veterans deserve.
Cloudbreak Communities is engaged in the development of supportive housing for veterans who are homeless, formerly homeless and at-risk. Tomorrow is the ground breaking ceremony and we were honored that the Mayor's representative chose our color guard to present the colors for this noteworthy cause.
3:00pm: Attendees may check into the Zoom meeting . Click here to access the Zoom meeting.
3:30pm: Program Begins
3:31pm Marine Corps JROTC, Royal High School, Royal Independent School District
Under the Direction of First Sergeant LaShan Bland, USMC
Click here to view the entire program schedule.
Keep up the good work, live by our Marine Corps Values of "Honor, Courage and Commitment", and always remember: "Strength and Honor".