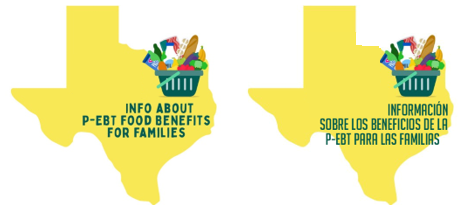 Pandemic Electronic Benefit Transfer Application Deadline Extended to August 21, 2020
RISD Communications
Tuesday, July 28, 2020
The application for the Pandemic Electronic Benefit Transfer (P-EBT) will be open until August 21, 2020.
Visit https://yourtexasbenefits.com/Learn/PEBT to apply.
P-EBT provides eligible families with a one-time payment for each child who previously received free or reduced-price meals. P-EBT works the same way Supplemental Nutrition Assistance Program (SNAP) benefits do and will help families get the food they need during the current pandemic. P-EBT will be administered by the Texas Health and Human Services Commission, Texas Department of Agriculture, and Texas Education Agency.