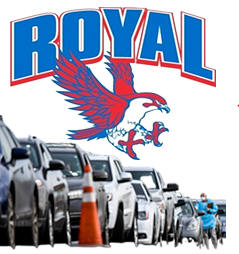 Changes to the Falcon Drive Thru Meal Distribution Requirements
RISD Communications
Tuesday, March 31, 2020
Per new guidance from the Texas Department of Agriculture (TDA), Royal ISD has changed its Falcon Drive Thru Meals program policy regarding student meal pick up services.
The TDA has now changed its policy to allow parents to pick up meals, at the designated times, without students being present. Parents without children present must provide one of the following documents to pick up meals:
Student ID card
Individual student report card
Attendance record from parent portal of Skyward
Birth certificate for children
Without one of the listed items above, parents will receive meals for the number of students present with them in the vehicle. This change in policy is due to an eased requirement from the USDA (United States Department of Agriculture) and TDA.