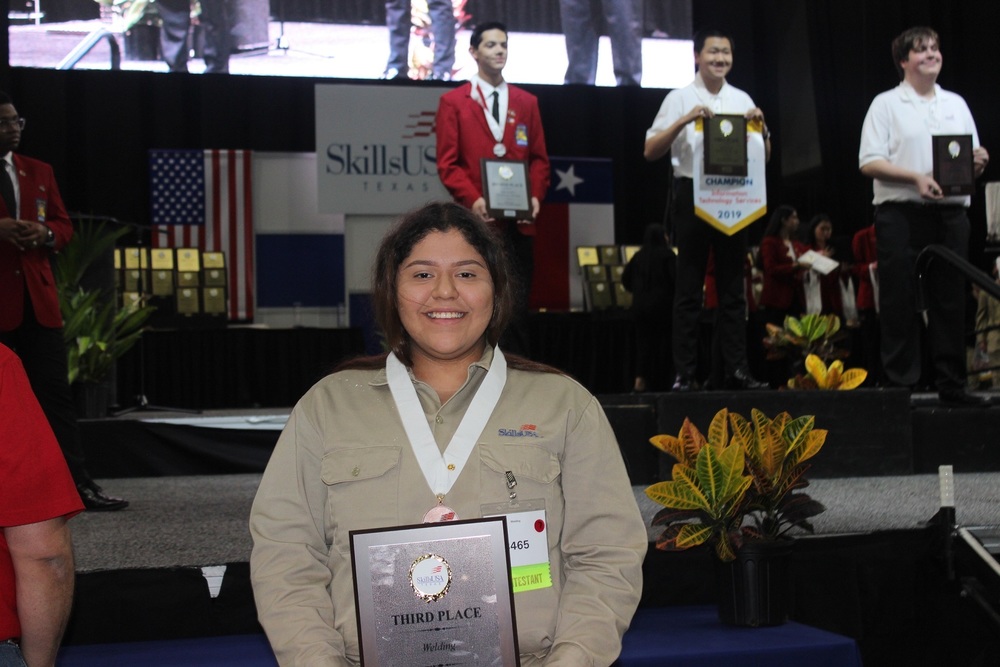 Former Student Spotlight: RISD Welding Student Makes History
Christi Ginn
Tuesday, December 17, 2019
Selena Castillo earned the Bronze medal at the April 2019 State SkillsUSA Welding contest held in Corpus Christi, making her the first female in Texas, in known history, to accomplish such an honor. Selena competed against 12 other District winners from various size schools across the state. SkillsUSA is truly a state-wide competition, as it includes ALL schools and not just those of the same size.
Selena achieved this honor by constructing and welding various projects using 5 different welding processes in different welding positions, along with showing off her Oxy-fuel cutting talent.
Selena is also the first female to complete 4 years of welding instruction as well as being the first person from Royal to be a two time District 9 SkillsUSA Welding champion. Selena graduated from RHS in 2019 and is currently working at Twisted L Alloy Fabrication LLC in Waller, Texas. She is being pursued by numerous companies for higher-level jobs less than a year out of high school. RISD welding program graduates are not strangers to success. Since 2010, over 30 former RISD welding students have pursued higher-level welding jobs within a year of graduating high school.
Thank you for making RISD proud, Selena! #madeinroyalisd #dreamworksoar #royalisd