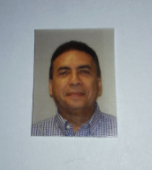 Hello, my name Mr. Abilucea, I am excited to be here in Royal ISD. I started my teaching career as a self-contained Bilingual Teacher and had different opportunities to taught students for 4th to 8th grade as a Certified Foreign Language Spanish teacher. I have a bachelor's degree in business, and I am currently working on my fourth certification.
I have enjoyed teaching here in Houston for 10 years in different public schools,
I am married and I have one daughter that got married recently. She is a teacher, and my wife is also working as a teacher. The whole family loves kids. Some of my favorite hobbies are martial arts and movies.
I have a passion for teaching and believe all students can learn and awake for their own learning, I also believe that we as educators working as a team can make a positive difference work for the best our students and their families.
My goal for this year is to help my students on Second grade level to grow academically, socially, and improve their reading and writing skills, making high order thinking connections for Math, Science, Social Studies, Health and ESL.