Greetings, Falcon family! There are only two more days left in early voting! Head to the polls on Monday, May 1 or Tuesday, May 2 between 7am and 7pm to make your voice heard. Election Day is May 6. We encourage everyone to vote and to make your voice heard. Visit royal-isd.net to get the facts about Bond 2023 and to access voter information.
Reminder: May 5 is Cinco de Mayo and is a student & staff holiday. We hope you enjoy your long weekend! #WeAreRoyal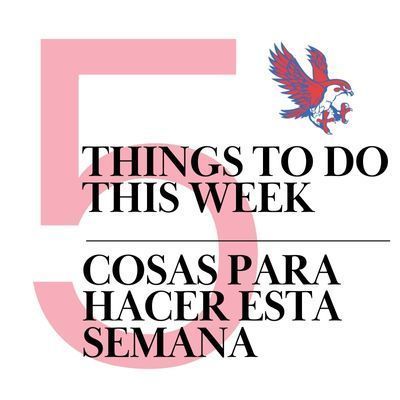 Five things to do this week:
Early Voting Flyer! Get the facts: Read about what's included in Royal Bond 2023. Still have questions? Contact us at royalbond2023@royal-isd.net or 281-934-6940.
Do you know that the Falcon automotive pathway students can do anything from oil changes to major repairs like brakes, fuel pumps, engine mounts, steering and suspension, spark plugs, cooling systems, etc. The program recently started accepting donations for the repairs in benefit of the SkillsUSA program. The donations will be based on the total cost of the repair. Oil change prices are as follows:
Full synthetic engine oil and filter- $45.00 (5 quarts)
Conventional engine oil and filter $25.00 (5 quarts)
If you are interested in signing up for an auto repair service, please CLICK HERE to request an appointment. Thank you for your support of Career & Technical Education at Royal.
Have a wonderful week! #WeAreRoyal #WeAreFalcons
Royal ISD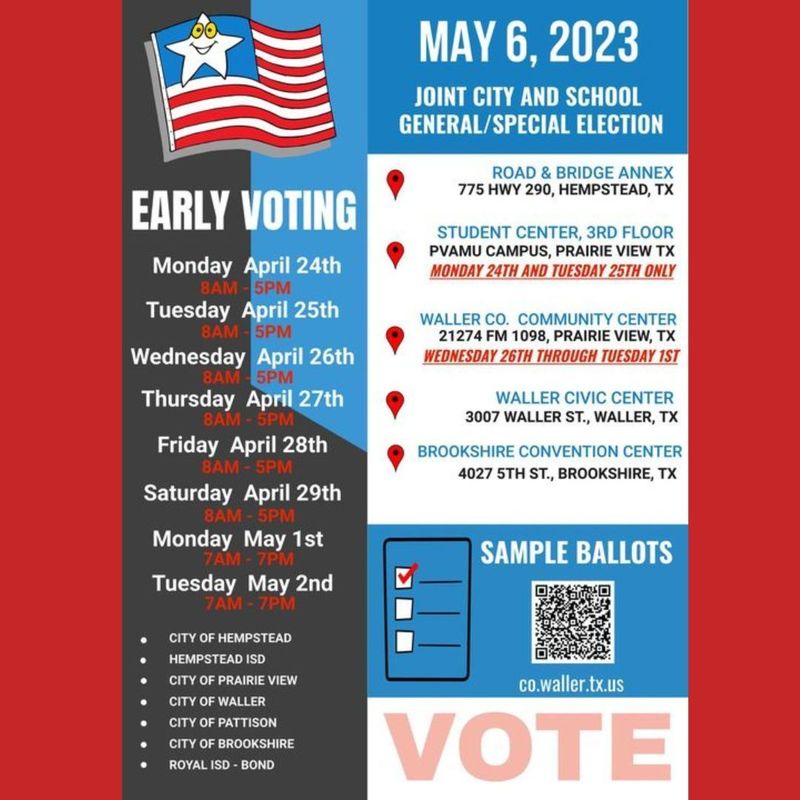 ---
Upcoming Events
Sunday, April 20
Monday, May 1
Tuesday, May 2
Early voting

– 7am-7pm

RJH Cheer Tryout Clinic, RJH, 4pm-5:30pm: Falcons interested in trying out should plan attend both weekday sessions (May 1 and May 2, 4-5:30pm) OR the April 29 Saturday session (9am-12pm).
Teacher of the Year & Special Awards Banquet
ECC: HUEsday! Wear your teacher's favorite color! (Teacher Appreciation Week)
UIL Academics: Virtual Challenge #6 Closes
RJH Tennis @ Wharton - 8th Grade District
Royal ISD Fine Arts: Dance Talent Showcase, 5:30pm, RHS PAC
State UIL Academics Theatrical Design
Waller County Sesquicentennial City of Waller Event, 1-5pm, Waller City Hall & Waller Museum. Additional details are available here. Visit their Official Facebook Page!
Wednesday, May 3
Thursday, May 4
ECC - Bring your teacher a flower! (Teacher Appreciation Week)
State UIL Academics Meet
Solo & Ensemble Festival
Lemonade Day 2023: Support our Falcon youth entrepreneurs. Join us at the 2023 Community Funfest and Lemonade Day on May 4 from 4:30pm-6pm at the Royal Boys & Girls Club. Raffle, bounce, carnival games, free throw and 3-point contest, and more, all for FREE! Flyer: https://5il.co/1tfax
Parent Meeting for 2024 Washington DC Trip: Join us to learn more about the 2024 Washington DC trip opportunity. The trip is open to current 7th and 8thgrade students at RJH and STEM. RSVP at https://bit.ly/40a28Y9.
Waller County Sesquicentennial:Katy Heritage Park Tour, Barbershop Quartet. City of Katy, 6-8:30pm. Lunch @ 2pm at Prairie View City Hall. Additional details are available here. Visit their Official Facebook Page!
Friday, May 5
Saturday, May 6
State UIL Academics Meet
HS Football-GHFCA 7on7, 9am-12:30pm, Mayde Creek High School
Prom 2023 Photo Op: Join us at Edward Jones (905 Cooper Street, Brookshire) for Prom Picture photo ops on Saturday, May 6, 2023 from 12pm - 6pm. A backdrop will be provided. You can take selfies, or have friends and family take pictures. Come by and have fun! It's free!
Royal Junior & Senior Prom: Houston Marriott Energy Corridor, 16011 Katy Fwy, Houston, TX, 8pm
Sunday, May 7