Greetings, Falcons!
Lots of great things happened last week at Royal! Last week was Transportation Appreciation Week. Our entire transportation team works tirelessly in the midst of ongoing driver shortages and other challenges to safely bring our Falcon learners to and from school. Our community showed them thanks throughout last week, and the Royal ISD transportation team would like to express its gratitude to all campuses for the kind gifts of food and words of encouragement. We are grateful for each of you and wish you a wonderful remainder of the year!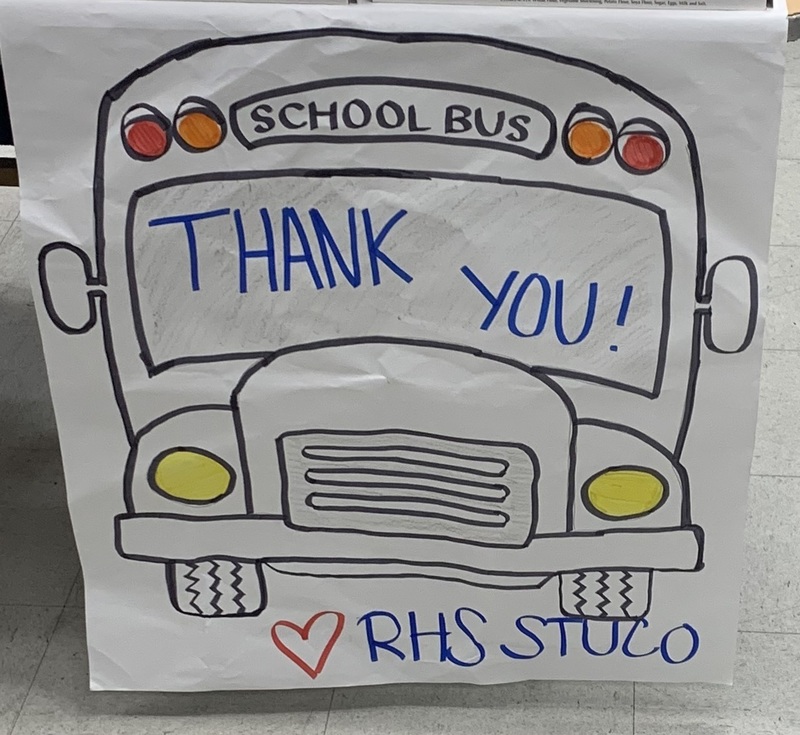 Our Falcons spent the week excelling in academics, athletics, UIL, CTE, FFA, fine arts, and much more. Our school board and superintendent visited Austin to participate in the current legislative session. Public school funding is on the menu for this session. Reach out to your elected representative to help ensure that the needs of our learners are being met in the coming years!
On a more serious note: We recommend that all Falcon families encourage their child to report concerning incidents and to monitor their child's backpack. Please note that no weapons of any kind are allowed in any Royal ISD facility. Please refer to pages 7-8 of the Student Code of Conduct for a complete list of prohibited items. Please stress to your child the importance of saying something if they see anything concerning. Lastly, please take a moment to log into the Skyward Family Portal to make sure your contact information is up to date. It truly takes a village to keep our students and staff safe.
Make sure you follow us on social media to see all the great things our students and staff accomplish every day! Thank you as always to our community for its partnership in helping our Falcons soar to success each and every day.
Keep reading to learn about upcoming events!
Are you interested in learning about ways to keep your family mentally and physically healthy? Join us at Royal Junior High on February 27 from 1pm – 3pm for "Soaring to Wellness: Falcon Health Fair". The first 100 visitors will receive a free gift! While you're at the Health Fair, join RJH in the auditorium at 2pm for their Black History Month Celebration. Watch your email and the district website for more details!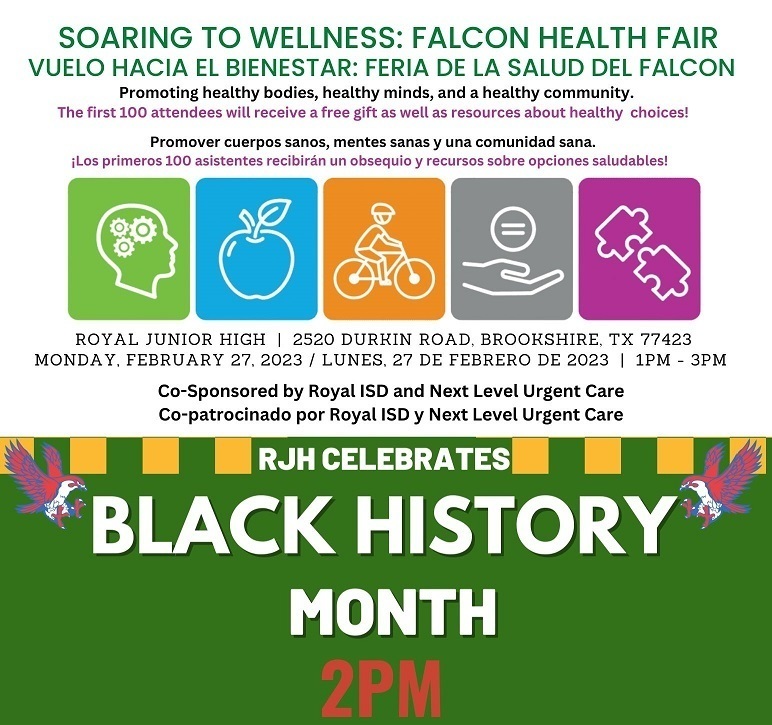 Have a wonderful week!
Royal ISD
---
Upcoming Events
Monday, February 27
Tuesday, February 28
JH Track Meet @ Royal, 4-7pm
HS Softball vs. Fort Bend Willowridge, JV@4:30pm, JV@5:30pm
HS Boys Soccer @ Hempstead, 5:15pm
HS Girls Soccer @ Hempstead, 7:15pm
Wednesday, March 1
RHS Theater Arts presents The Last Illusion, 6:30pm, RHS PAC
Thursday, March 2
RHS Spring College & Career Day
UIL Academics: Virtual Challenge #4 Closes
High School - UIL D25 OAP Stage Rehearsals All Schools, El Campo
HS Softball Tournament @ Elsik (vs Legacy), 1:45pm
HS Softball Tournament @ Elsik (vs Stephen F Austin), 5:15pm
Friday, March 3
High School - UIL District 25 One Act Play Contest, El Campo
RHS Track @ Stafford Invitational, 8:30am-12:30pm
HS Softball @ Bellville, JV@5pm, V@6:30pm
HS Boys Soccer vs Sealy, 5:15pm
HS Girls Soccer vs Sealy, 7:15pm
Saturday, March 4
UIL Academics: Caney Creek Tournament
Powerlifting Girls Regionals @ Dublin HS
HS Baseball @ Somerville Tournament, JV@5pm, V@6:30pm
HS Softball Tournament @ Elsik (vs Pasadena Rayburn), 8:30am
HS Softball Tournament @ Elsik (vs Waltrip), 1:45pm
Sunday, February 26
HS Baseball @ Somerville Tournament