EDIT MAIN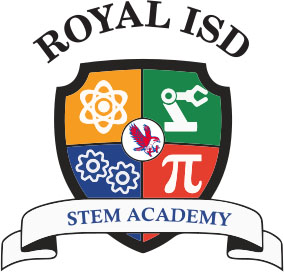 Royal STEM Academy Principal Mrs. Glover defines it as follows: "Science is all around us in the world. Technology is continuing to expand into all areas of our daily lives. By giving students opportunities to explore STEM-related concepts, we will ignite a fire in today's generation of learners to help them become our future innovative leaders."
Why study Science/Technology, Engineering, Math (STEM)?
---
Royal STEM Academy's overall goal is not only to increase all student achievement in math and science, but to inspire students by exposing them to rigorous "real world" problems and issues in a project and inquiry based learning environment. Royal STEM Academy provides students with an innovative program that offers students the knowledge and skills needed to solve problems, gather and evaluate evidence, and think critically to prepare them in the fields of science, technology, engineering, and math (STEM). The skills taught at STEM are designed to create future leaders who have the ability to understand and solve some of the complex challenges of today and tomorrow. Our primary objectives are to meet the demands of the dynamic and evolving workforce while building students' skills, content knowledge, and fluency in STEM fields.
---
We are proud and excited to announce that the Royal STEM Program was chosen as a 2019-2020 "Project Lead the Way" (PLTW) Distinguished School in the 2019-2020, 2018-2019, and 2017-2018 school years. This recognition indicates that the Royal STEM program is empowering its students to thrive in our evolving world and is achieving exemplary results from its PLTW Gateway program. Click here to watch a special message from PLTW President and CEO Vince Bertram.
---